---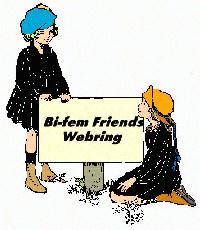 Here is how you too can become a member of the Bi-fem Friends Webring. All you have to do is follow these simple directions. If you have trouble at
any time just ASK for help.
1: Fill out and submit the online application form
found on the next page, link can be found below.
2: Once you receive your email with the html code, cut and paste it onto the lower section of your first home page. It is allowed on more than just
your front page, but it must be on your front page.
3: You now may choose to email the ringmaster to inform her that you have submitted your page, although this really is not necessary, if you
have not heard anything within ten days, you should send an email to find out what has happened to your application.
4: Within a few days you will receive an email notification that you have been added to the webring, or notification of changes that have to first be
made to your page before approval.