---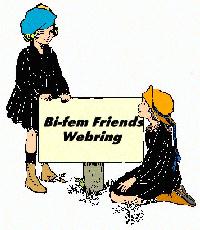 In order for a home page to be accepted as a member of our webring, it must pass a review. The basic things that are searched for are the following:
1: A basic dedication of the bi or bi-curious lifestyle.
2: That the page is owned in full or part by a female.
3: That the content is mostly directed toward the interest of other bi/bi-curious females.
4: There is no explicit pornography within the site.
5: The page includes the standard html code linking the page to the webring. (More on this in the Join instructions.)
All qualifications are pretty easy to deal with, as long as you are a bi/bi-curious female who wants your page(s) linked with a group of like-minded ladies. If you have any questions, just ASK.
---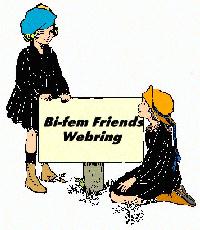 Our rules are pretty easy to deal with and mostly involve common sense and respect for others and yourself. As long as there are no problems, we won't have to have a 100 page book to figure out the rules.
These are the rules, they are subject to change at any time. If there is any changes, you will be notified via email. If any changes must be made to your page(s) you will be given at least a ten day period to do so. It is important that you inform us of any changes in your email, if we send you an email message and it is not able to be delivered we will cancel your membership.
1: Webring code must remain on your first page at all times and must be in an acceptable format.
2: No explicit nudity is to be displayed on your site at any time.
3: Respect and common courtesy will be shown at all times.
4: I don't like typing too much, so please use your common sense.
Thank you, and remember rules are subject to change at any time as needed.
---

Here is how you too can become a member of the Bi-fem Friends Webring. All you have to do is follow these simple directions. If you have trouble at any time just ASK for help.
1: Fill out and submit the online application form found on the next page, link can be found below.
2: Once you receive your email with the html code, cut and paste it onto the lower section of your first home page. It is allowed on more than just your front page, but it must be on your front page.
3: You now may choose to email the ringmaster to inform her that you have submitted your page, although this really is not necessary, if you have not heard anything within ten days, you should send an email to find out what has happened to your application.
4: Within a few days you will receive an email notification that you have been added to the webring, or notification of changes that have to first be made to your page before approval.
<-- ONLINE APPLICATION -->

About | Join | What's New | Romance | Board Room