---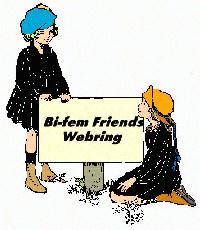 Want to join the Bi-fem Friends?
[Skip Prev] [Prev] [Next] [Skip Next] [Random] [Next 5] [List Sites]
Welcome to the Bi-fem Friends Web Ring Official Site, here you will be able to visit any of our member sites by simply clicking here to see a list of our members. To view the stats for the ring, click here. You can also learn how to become a member of our webring by visiting here. Learn more about our new award presentation program by going here.